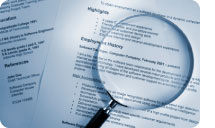 Gives you around-the-clock access to instant consumer reports online from the major credit reporting bureaus via our secure web server. Credit Reports provide excellent insights to landlords, retailers extending credit, and mortgage brokers to assist in profitable decision-making. ZipReports offers you consumer reports from all 3* major credit reporting bureaus. (*See Application information for restrictions.) ZipReports sifts through credit report data and delivers the parts that are important to your business, clearly formatted for easy review. We integrate the information from the bureaus you select into one merged document, if you prefer, noting which bureau provided which information. We interpret the "Greek" of credit reports for you, minimizing the use of codes.Most credit report information on an individual stays on the report for 7 years, and some appears for 10 years.
This report is similar to a standard credit report with minor alterations to comply with restrictions established by federal law. As an employer, you can get a look at employees' track records with the confidence that, when used within appropriate guidelines, the credit report is fully compliant with the Fair Credit Reporting Act. This credit report includes a listing of other prospective employers who have reviewed the applicant's report in the last two years, which can help you assess an applicant's work stability.
Credit Report Contents Include:
Names: All names that bureau has listed for that Social Security Number.
Security Numbers: All Social Security Numbers reported to the bureau as being used by that applicant. (*See our Verification services for even more in-depth SSN checks.)
Date of birth*: (*Only displayed if there is a discrepancy between dates reported at different times.)
Addresses: Includes first reported and last reported dates at each address of residency.
Employment: At a minimum, lists names of employer companies. Some files also contain employer addresses and employment dates.
Credit History: Account types and lenders are listed, along with balances due, credit limits, payment histories, durations of accounts, collection status, and other related information.
Financial Public Records: Civil judgments, bankruptcy filings, tax liens, etc.
Inquiries: List of companies that have requested credit reports on applicant to consider extending credit. Dates of requests are often listed.
Remarks: Comments from consumer relating to information provided in report.
FICO Credit Risk Scores
ZipReports provides many types of scores developed by Trans Union, Equifax and Experian. These leading credit bureaus have invested substantial research in development of these scoring systems that intelligently help predict future behavior patterns of applicants in various situations. Through our partnership with these industry leaders, ZipReports offers scoring tools that can aid you in making the most profitable decisions for your particular business. Scores provide easy-to-read summary evaluations that can give you a quick overview of an applicant's creditworthiness.
The most commonly used score is the FICO® score, developed by Fair, Isaac. It is determined by assigning values to characteristics including payment history, amounts owed, length of credit history, new credit, and types of credit in use.
Experian/Fair, Isaac score from Experian
Beacon® score from Equifax
EmpiricaSM or TransRisk score from Trans Union
Other scores (We can help determine which would be best for you!)
*Each risk score must be ordered in conjunction with the corresponding bureau's credit report.